Courses/Design & Technique-Essential Web Design/07
Jump to navigation
Jump to search
week 7 - uploading webpages to server
Tutorials
29 Oct - from 9pm
5 Nov - from 9pm
List of deliverables
1) Create a webpage that is a minimalist painting.
2) Build a short story using links. At each link the user learns more,
or gets more confused, about the story. It can simply be a labyrinth.
3) Find a text that you consider interesting; place it on a webpage; Type-set it with CSS, so that the style either illustrates, contradicts
or is in dialog with the content ( use at least one custom font
4) Transform the type-set text (from previous week) into a a ready to print PDF and print it.
5) (re)present a part of your zine in your web project;
How to upload your work:
use an FTP client software like Filezilla
connect to the Publication Station server using the details:

Host: chichi.pzwart.wdka.hro.nl
Username: go-student
Password: (if you dont know ask Andre or your fellow colleagues)
Port: 22
Create a folder(directory) for yourself:

inside the folder /home/go-student/Q2/
create a folder(directory) with you Square-Name (avoid using spaces)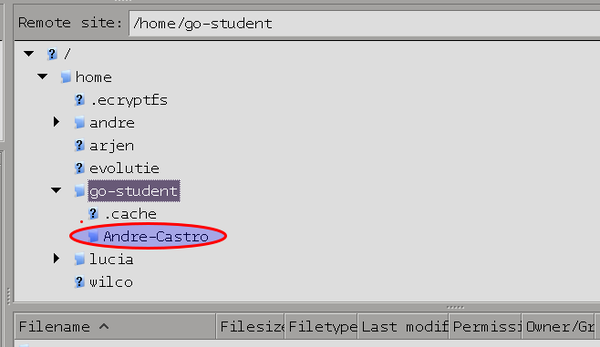 Upload your web projects from your computer to your folder on the server by dragging and dropping it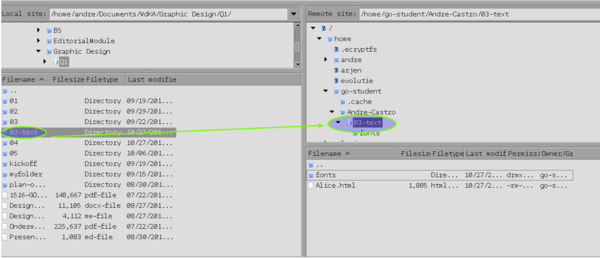 Create a folder directory for each deliverable.
That should contain all the resources you use for the project: the HTML file(s), the CSS file (if you use a separate one), and the custom fonts files (if also happen to use them in your deliverable).
By visiting http://publicationstation.wdka.hro.nl/go-student/ you can see your folder and go inside you can see the sub-folders for each deliverable