User:Maudclaessens
Jump to navigation
Jump to search
Homeless
13 September
Trine Lindegaard
The way Trine Lindegaard works interests me. She connects herself with a group of people in a different environment like prison for instance. She doesn't really describe why she chooses these people but for me it is a way of trying to understand them and to help them; stimulate them. From the workshops she does with them, she creates collections with a story. She gives it more personality by involving all these different types of people. She doesn't show fear but involvement.
Harriet Riddell
I discovered Harriet Riddell on an Urban Art Fair in London. She travelled through India where she made portraits of people she met. She makes these portraits with her sewing machine. The way she interacts with people is what I admire.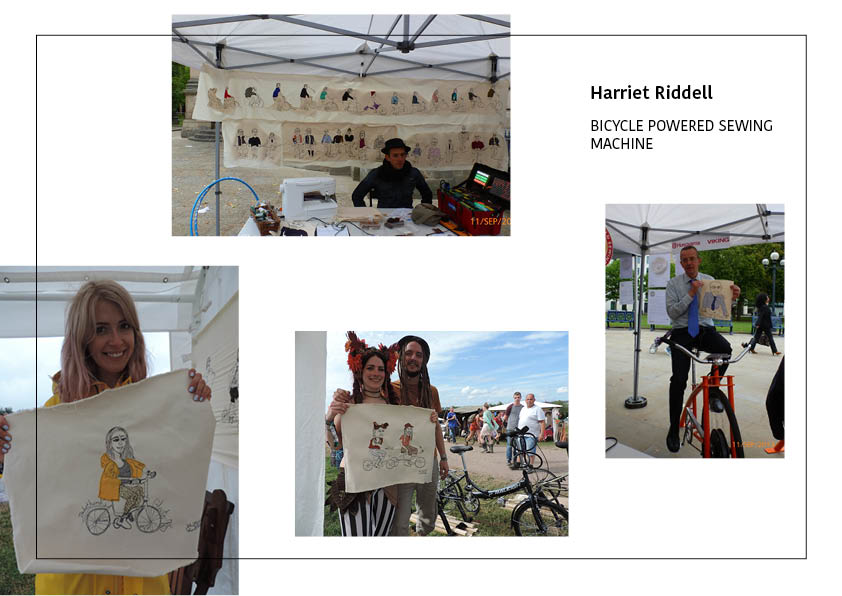 Conditional Design
"Making art by playing a game"
Personal interests
- dancing - photography - traveling - colour - longboarding - food / cooking - sun / being outside - personal contact - prints / silkscreen printing - memories - stories - (being) health(y) - partying
Topics
- psychologie - difference - health - patterns - institutions - addictions - (personal) history - travel / countries / culture - "cause / effect" - biology - stories - methods / systems - strangers - exposure
Brainstorming
I want to get in contact with people who inspire me by their stories / backgrounds. I want to do research on a group I don't yet understand. A group I have lots of questions about and where I think these 'answers' are relevant for the majority of the people. I want to give this group a personal image, recognition for the outside world. I want to give tem something precious, something they made (partly) themselves. Something with their personality in it.
My goal is to make prints. The product itself is not decided yet; just as the way to get to this product isn't. The group I'm going to be working with is my inspiration source. What they need is going to be of value of what I am going to make. I use them as a "design-group" before making the product. By working together, but especially by own interpretations of them, lots of inspiration evolves for me. I'm trying to get lots of visuals (drawings / products / photos / sounds) and stories by using cultural probes and by getting into conversations with these people.
I want to be the person who makes the end product. Maybe with a small part of collaboration but I will discover this during my process.
16 September
Brainstorming
During my time in London I was a lot in contact with homeless people. Almost every day they approached me. Every time they asked me for money my biggest questions where; "What are your going to do with this money?" "How did you end up in this situation?" I never had the guts / chance to ask. It's actually none of my business, but at the same time it is when I give them something. I don't want to feel sorry for these people immediately or think in the wrong way about them. I just want to know "why?". What happened? So many question marks. Is their vision on the world changed now they live on the streets? What is important for them? What can help them, if they even need/want help?
The main goal of my work is to create something that makes people smile. Because it's funny, colourful, personal or heart warming. It all overlaps in my opinion. By working with Open Design I even get the chance to involve a group of people to make it even more personal. And maybe even useful for them. 'Not just another collection' It's a collection that gives insight in the group of homeless people. A group where lots of people have lots of prejudices on. I want to make the homeless people and public happy, as well as give them some knowledge. For the homeless people in a way of creativity, feeling useful. For the public in understanding this group.
I've met 2 people in London that have been homeless. One guy (Lee) had been in the army and afterwards ended up on the streets because the army didn't give him nothing when he had to integrate back into society. What happened with Craig is a question for me. I met him in a hostel during my first stay in London. He is a man with great stories. I hung out with him a couple of times, he knew the streets very well and showed me lots of interesting places. All attached where interesting stories. He lived in between the hostel and friends' places. He has a daughter, he divorced from his wife. This makes his situation complicated. He originally comes from Scotland and grew up in the Skinhead Scene. I'm not sure if he really has been homeless but for me, living in between hostels and friends' places is not really having a home.. If there is someone I could contact it's Craig. He has a creative mind and we understand each other. He would not feel offended.
22 September
Leger des Heils
I decided to contact "het Leger des Heils". This is an (religious) organisation for homeless people. They have 246 locations in the Netherlands plus 125 in other countries worldwide. They give shelter to homeless people, moral/social/physical support and have different places to go to for different categories of people. They have charity clothing shops and "soup trucks" in different cities. All their intentions are good. I feel there is lots of space for me to help and find people.
I realised I'm not only there to get inspiration or to get a product out of it. Im truly willing to help these people. Becoming personal with them and understand them. Listen.
I sent them an email:
Hallo,
Ik ben afgelopen half jaar in Londen geweest voor mijn stage. Hier zag ik dagelijks mensen zonder dak boven hun hoofd. In Londen is dit een groot probleem en nu ik terug ben in Rotterdam ben ik onderzoek gaan doen hoe het hier eraan toe gaat. Ik heb veel vragen, waarschijnlijk erg persoonlijke. Ik heb belangstelling gekregen over het leven van een dak/thuisloze. Ik wil oprecht medeleven, interesse en hulp tonen/geven.
Ik zit nu namelijk in mijn laatste jaar van de kunstacademie in Rotterdam. Ik studeer mode. Ik wil mensen begrijpen, mensen die op de een of andere manier anders in de maatschappij staan dan ik. Met mijn werk wil ik mensen vrolijk maken. Dit keer wil ik het op een persoonlijke manier aanpakken en met een specifieke doelgroep samen gaan werken; dak/thuislozen. Ik zit in mijn minor en ik wil onderzoeken wat deze mensen nodig hebben. Ik ben geinteresseerd in hun situatie en hoop hiermee (samen met hen) iets te creeeren wat ze nodig hebben. Dit kan een voorwerp, kleding, verhaal, ALLES zijn.
Met dit project (het wordt mijn afstudeer project) wil ik beter begrijpen hoe ze in het leven staan en hun verhaal naar buiten brengen, plus henzelf iets mee geven waar ze aan vast kunnen houden.
Daarom wil ik vragen of er plek voor mij is om samen met een groep binnen een van uw opvang plekken activiteiten te gaan doen. Elkaar beter leren kennen en begrijpen. Uiteindelijk een waardevolle ervaring en product mee geven.
Ik kom met alle liefde langs om hier meer uitleg over te geven en vragen te beantwoorden en tevens ook voor mij de mogelijkheid om vragen aan u te stellen.
Ik hoop van u te horen.
Groetjes, Maud
10 October
Today I'm going on the streets to talk to homeless people.
---
I went outside, cycling for 2 hours, no homeless person has been found.. I probably ran into a few, but didn't realise it or I just wasn't sure. And I find it kind of offensive to ask someone if he/she is homeless.. I went nearby 'Leger des Heils' iin Coolhaven - the same place as I am in contact with to do workshops. Except of in front of the door I couldn't find anyone. And I was too afraid to approach them in front of the entrance of their stay. I was more looking for people who where selling news papers or just asking for money. It would've given me an opportunity to talk to them and I think these people already are more approachable then others. Strangely enough I didn't find anyone selling stuff.. Tomorrow I'm going to try again!
Although I did find this:
It looked like it was from a homeless person from a distance. To me it looked like an art piece; a collection, perfectly ordered. But when I saw the sign I wasn't sure anymore if it was..
11 October
First draft statement
Summary

Page 3-.. The Fascination
Page ..-.. The Method .1 Open Design .2 My Approach
Page ..-.. The Meetings .1 Het Leger des Heils .2 Activities
Page ..-.. The Hidden Knowledge .1 Meet Them .1.1 .1.2 .1.3 .1.4 .1.5
Page ..-..
The Fascination
This book is about people without a home. A project that consists out of stories, work and inspiration from and about homeless people.
I've been in London for half a year to do an internship. Oh boy, what a city. One of the things that caught me the most was the amount of homeless people. So many questions popping up in my head. How can someone's life change this badly to end up on the streets, begging for money, a place to sleep or food. On one hand it's incomprehension, on the other hand there is something inside me that wants to help these people. Not necessarily by giving them a place to stay. Just give them some company and a great memory. Maybe they prefer living on the streets. I'm not the one to fill in their life.
The Method .1 Open Design
"Open design is the development of physical products, machines and systems through use of publicly shared design information. Open design involves the making of both free and open-source software (FOSS) as well as open-source hardware."

Open Source Design Manifesto I will:
find opportunities to design in the open share my design experiences; both the good and the bad find time for meaningful projects openly participate in design discussions work with other designers by choice improve my toolbox

My Approach
In this project the open design method is used as a source of inspiration for the final 
product. By doing creative workshops with homeless people their view on the world is exposed and by going into dialogue with them their hidden knowledge has been found. The result consists out of stories, (art)works and emotions from the people without a home. But the final product is created by me, Maud Claessens.
The openness of this project is to find in the collaborative way of working in the phase of research. There's not much information given that's found on the internet. It's all influenced by the homeless people that are involved with this project. By finding their knowledge and needs this project is influenced by them. By getting involved in their lifes and make things in collaboration with them a process is created. They will leed the process to the final product.

Why the decision of using Open Design like this? It's a personal experience that's been added to a work whilst working like this. It gives you a story and 
something to hold on to. My work is about exposing other worlds. In this case it is the world of people with different living circumstances than most people. By doing research about them, not through the internet but through own experiences, this project is real. It involves other people, the people what this project is about. They get the opportunity to tell their own story through my work. To get knowledge for their powers, for what they're worth. It's a chance for me to understand a world I'm not familiar with. Instead of creating my own little world of preconceptions they are showing theirs. They lead me to what I am going to make in the end.
To give a better insight of how I work I want to show you the work of Trine Lindegaard
Trine Lindegaard is a fashion designer from Denmark. For the project displays on the left she went to a prison in Denmark to do workshops with the inmates. There's no clear description from this collection but I think she gave the inmates the task to image what they where dreaming about when they where kids.
The second project is a project about asylum seekers. One of her focuses is increasing self esteem with this people. She uses their background and imaginative world to create a great collection about these group of people. The group of people had to work within the theme of how they would see the future in Denmark. About their dreams.
In this project there is no intention of creating something that other people have to improve. No, it's about a story. A story about people I - and lots of other people - don't understand. Yet. It's almost social work, helping people. But in the end it is useful for the designer. It's the task of the designer to tell their story in a way people understand, believe and respect it. To give 'different' people a place in society.
wat betekent open design voor mij?
als ik terugkijk op mijn eigen projecten en om me heen kijk naar de projecten van anderen vallen me een aantal dingen op. de een is dat men het zich veel te ingewikkeld maakt door allerlei tegenstellingen in een project te gooien, onrealistische werelden te verbeelden etc. dit kan ook nog een kwestie van smaak zijn. het andere wat me opvalt is dat men zoveel aannames doet zonder van hun stoel af te komen en research te doen naar de werkelijke situatie. het is tegenwoordig zo makkelijk om via je laptop van alles te weten te komen. het gevaar hier van is dat je in je eigen wereld terecht komt waar weinig toevoeging is van de doelgroep/inspiratiebron waar het eigenlijk over gaat. zo zijn er ook studies waarvoor deze techniek niet toegepast hoeft te worden maar vaak gaan ontwerpers iets bedenken voor een bepaalde doelgroep. ze doen aannames dat deze doelgroep dit nodig heeft zonder ze eerst zelf naar hun mening te vragen. dit vind ik toch wel een van de belangrijkste aspecten waarom ik gebruik maak van open design. open design dwingt mij om me binnen een groep te infiltreren. ik als persoon ben heel nieuwsgierig naar dingen die ik nog niet begrijp. dit kan gaan om theorieën, culturen, gedrag, leefsituaties, etc. om deze groep te begrijpen meng ik me tussen hen en wil ik te weten komen wat zij willen en/of kunnen. ik laat me door hen inspireren. zij vormen mijn project. ik heb natuurlijk bepaalde ideeën wat ik van hen verwacht maar ik vind het juist belangrijk om me te laten verassen en het project door hen vorm te laten geven. ik reageer op hun acties met nieuwe opdrachten waardoor we samen verder komen. zo stuur ik ze toch in een bepaalde richting maar speel ik wel in op wat zij willen en/of kunnen.

Open Form manifesto (1959) by Oskar Hansen
"Those works are above all personal monuments to their authors. Therefore, it seems, they ought to be more or less alien to each of us."
Dakloos Eric & Jan Willem
These little documentaries are published on a day for homeless people, organised by the Pauluskerk. Stories of two man strolling around Rotterdam.
https://www.youtube.com/watch?v=cIE2KAbKapI https://www.youtube.com/watch?v=C_SA6rRYyms
Boost een dakloze
A project about giving homeless people a chance. You can 'boost' a homeless person by donating something to improve their talents. Great initiative!!
Someone
When I went to the supermarket this evening a homeless women approached me for money. I recognise her from around the neighbourhood. I tried to keep having a conversation with her but I got stuck in my mind.. I tried to have a 'normal' conversation with her, not being too obvious about me wanting to have information. I truly am interested in her stories. We talked a bit about why she had to find money for a hostel - she was not selected to sleep in the free night care for this night. Because there are so many people they just toss for who gets a free place to sleep and who doesn't that night. If I remember correctly she had been homeless for about a year now. Well, before she could stay in an institution but since a year she's been living on the streets.. I offered her something from the supermarket before I entered, she asked for a beer but immediately asked me if I did mind to buy her a beer. I told her I'd prefer to buy her food or something. It felt a bit weird to reject her question for beer.. Then she told me she already got a pizza from someone who drove by and asked if she could have a coke instead.
When I walked out of the supermarket I couldn't find her but then she appeared from behind a car and told me she had to move away from the entrance of the supermarket because she could get a fee. She was not allowed to beg in front of a supermarket and she would have to pay 90 euros. She already got a fee this week.. I asked her why she wasn't selling the street paper, 'cause then you're allowed to stand in certain places, selling the paper and getting money. She told me you have to buy the papers, so you needed to have some money beforehand. I told her I thought it would be worth the shot, because you would not have a chance to get the fee. 90 euros is a lot.. She said she thought about selling it a couple of times but never really saw the point. Then she told me she also didn't know where the Pauluskerk was (this is where you can submit for selling the street paper). I told her it wasn't that far and explained where it was. To me it kinda sounded like an excuse not to try.. She told me she would have a second think about it.
This women looked so kind. Also kind of sad and shy. She had this look in her eyes. A look that made me trust her somehow. Her attitude was really calm, she didn't stand out in the crowd. Her face also was real bad damaged. Some kind of skin disease.. Also her hands where deformed.
I didn't dare to ask why she was homeless. I hope I see her some more and maybe ask a bit more every time. Ask what she has been doing lately. If something has changed or maybe something nice happened to her she wants to share. It's such a personal subject I got nervous whilst talking to her..
Replies
I also got an email from "het Leger des Heils" that she found a contact person for me. Soon I am meeting this person for an interview, see if I fit in the organisation. The Pauluskerk also replied. They don't have room for me at the moment. One of the other reasons was they are careful with open art projects because they get so many requests as well as the people are not always willing to show. She did suggest to come have a look at one of their studios. I could help during open classes or just come and have a look. Maybe it's smart to go there.
Dakloze Tour
Who wants to join me??? Seeing Amsterdam through the eyes of a homeless person.
https://amsterdam.mokumevents.nl/event/rondleiding-dakloze-zwerver-tour-wandeling-amsterdam/
14 October
Productive morning
I went to het Leger des Heils this morning for an interview and I also stopped by NAS (Nicolaas Adriaans Stichting). At Leger des Heils I had an interview with Nicole, she is in charge of the external projects. I think she was quit interested after it became a bit more clear for her what I wanted to do. I noticed she had troubles with me not knowing everything I wanted to achieve. I think they are not used to creative people (she also mentioned I looked really arty.. Almost like she was intimidated by my creativeness). Even though we had a good conversation and she sounded interested after a while. She warned me for some things I could ran into during my project due to the people I am going to work with. Because these people don't have a normal living situation, mostly with mental illness and/or addiction, it can be difficult to connect with them. They can change their mind day by day about the project, suddenly having too much on their mind or simply just don't show up. Also because this institution is an emergency outcome they just go there because they need it, but when they (think they) don't need it anymore they just stay away. I explained to her I already thought about this and I also think it's partially having luck and meeting the right person(s). It's also a challenge for me to find a way to build trust with them.
(I did get an email already Leger des Heils agreed with my project)
After this interview I stopped by NAS. I called with Milan earlier this week and I can meet him next Wednesday but told me I could pop in any time I wanted if I wanted to speek to some other people already and get a first impression about the organisation. So I did. And it felt right. I felt the creativeness when I entered the building immediately. It was so much more alive then at Leger des Heils. I actually saw people and I got a tour straight away! This organisation is way smaller than Leger des Heils. Maybe that's the reason they are easier with people letting in because they have a better overview. Anyway, this girl showed me the music studios they have, a really small gym (with about 5 machines) and the common living room where everyone can enter and hang out during the day. With a smoking area and (to my imagination) an area where people can take drugs. I told her I was amazed by this and she said they made this room because they think it's better to give them a safe space to use their drugs then take it on the streets, in a bad environment. I agreed. It's just like the way I have been raised - whatever you do, know you can do it at home, don't do it in secret. And I always played open card and never got in (real bad) trouble. It's nice to feel a certain kind of trust. In this living room they also have a kitchen and they serve food every day at half1. It's been made together with some homeless people. Today it smelled amazingly delicious!!! Too bad I couldn't stay for lunch.. Even though she invited me straight away! Well, this was one of the two locations they have. They have one other location in the centre of Rotterdam and in this building they do other creative workshops and they have a studio here. So you could say one is the music building and the other one is the paint building. I'm going here asap to have a look! Besides the possibilities everyone has within these buildings the NAS also organises things outside. They have a small garden and made some cool outside furniture from car tires. They also plan small trips for the visitors. Today they organised a trip to the museum but no one wanted to join because they thought it was boring hahahah and I agree. Museums can be kind of boring..
So, I think I know where I feel best about my opportunities but I am going to wait with making my decision until I've spoken with Milan.
17 October
Today I went to the Pauluskerk (YES FINALLY, DEANNA ;p). I participated in a workshop. They changed the theme but it was still interesting for me to be there. They are setting up a project with people from Rotterdam and their stories. Today the group had to draw their favourite place in Rotterdam or a place with any kind of memory. Some did draw and others wrote a story. They want to use these works to print on clothing that can be worn during the play about the stories of Rotterdam.
I drew Jan instead.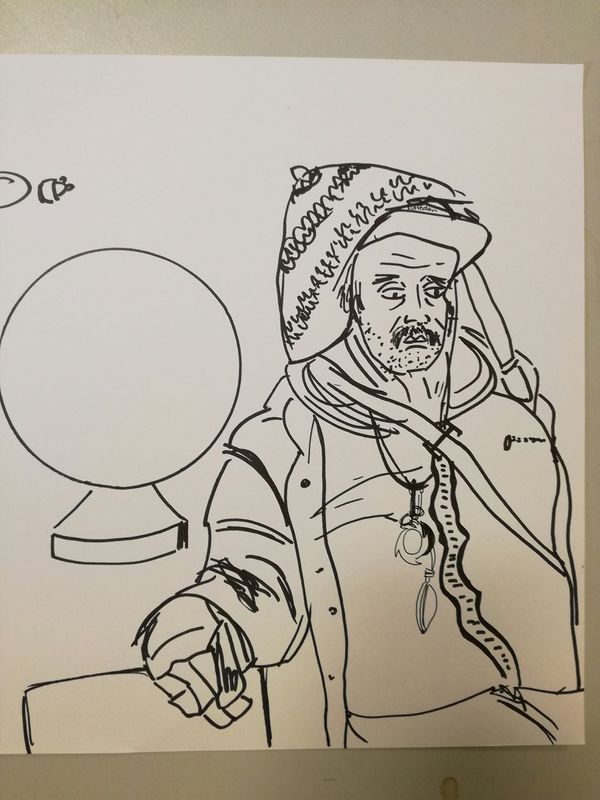 Jan is not homeless, he has his own apartment.

All the girls form the project where really enthusiastic me coming from the art academy and having knowledge about making prints. They immediately assumed I was participating in their project. I am considering to help them if it fits in my time schedule because my own project has priority. Maybe I can use it but because it's already an existing project I am not sure in what level I can own the process and the content of it.
I recorded the whole 2 hours. A lot to listen to. Lots of things have been said. Not sure if there was anything really useful but it worked and I am just gonna do it every time so if there is something interested being said I won't forget.
18 October
Today I saw Milan, my possible 'mentor' of NAS. In the NAS are lots of activities for creative people. Music studios, open studios, room for expositions, etc. This sounds very interesting. On the other hand I'm afraid I won't discover lots of other things than the already existing art techniques.. Tonight I'm going to the night care of het Leger des Heils to have a look around and to have a chat with my possible 'mentor' (Mart) over there. He also invited an ex-visitor whom is real good in shooting and editing videos. He thought he might be interested in helping me. My expectation is that I will find more diversity in the night care when it comes to hidden knowledge then at an already creative institution. Even though they all look very enthusiastic in the NAS!!
Leger des Heils - night care
The night care gave some some real good insights. I had a nice cup of soup, they just serve it for free. Then I talked to Mart and Sulai. Sulai is the former visitor and he was really enthusiastic. He showed me 2 videos he made together with some visitors form the night care last year. He even gave me copies! By the look on his face it was clearly noticeable how much he enjoyed doing this and how proud he was. The moment he played the videos in the room all the people where laughing and immediately focused. So nice to see how people can relate to this kind of stuff. So I talked a bit with them about my plan and they told something about what they do and what they have for future plans. They told me about the plan they are realising in the second week of november. Now there's no activities during the day. In the day care most of the people are sleeping and being lazy. They want to change this with daily activities. A consequent program. They are also going to refurnish the place - giving it a nicer atmosphere. When it comes to the program they see a real good opportunity for me and I do as well! It's only a shame it doesn't officially start until beginning of November. Before this starts they said I could start my project in the day- and night care. I think it's good to come there more often, show my face, try to evolve some trust and explain my plan clearly.
A women I spoke to told me she doesn't go to the day care often because she doesn't like the atmosphere. It was difficult for her to get through the day. Especially now when it's getting colder. She has some rituals, like feeding the birds in the morning. After that she walks to another day care and if that one is closed or she doesn't feel like going there she goes to the library to fill in her day. Around half4 she goes back to the night care, that's when it's open again. She has her meal and watches some tv, goes to bed.
Then I met Jan (not the same guy as from the Pauluskerk). A storyteller he called himself. A man with lots of knowledge about life, about history. Someone you can listen to for hours and almost doesn't give you the chance to walk away. He gave me some advice (old and wise haha). We talked a bit about some facts, mostly he. Got to know he doesn't like the couches and I suggested to restyle them together. He was kinda enthusiastic but I think I have to push him a bit more to really participate. He has an illness which makes it hard for him to work securely but I'm sure we can figure this out together. Around 10 o'clock he told me maybe it was time to go because he didn't want me to get in danger. There where some noises coming up in the night care and thought it was best for me to go if I didn't want to get in trouble. I thought I had listened enough for tonight so I left. Gave him a big thanks and told him we are going to see each other real soon.
File:Scanned from a Xerox multifunction device (2).pdf
I decided not to post too much information about the people I meet on the internet because I noticed they are kinda protected about their privacy. Mostly I am going to keep for myself and write them down elsewhere. Just as well as for pictures.
Before I start
Well, I made up my mind. And I think I am going to stick to Leger des Heils. At first I thought the NAS would've been a good match with me because they already do lots of creative things but this is also the reason why I decided not to choose for them. I am not specifically searching for unusual knowledge in art but mostly in other things. At the NAS they already attract people in the art field and spend a lot of time on these talents. At the Leger des Heils they don't spend much time on any activities or skills (yet!!). This gives me a variety of knowledge without the immediate link with art. I also know I deal with real homeless people and tonight I felt good vibes and I think there's a lot to improve there. I see opportunities. It might be more challenging but hey, that's not something to run away from. It's a process with more possibilities and unknown results.
Checklist:
- a concrete plan - a way to inform the participants about my plan - at least 4 activities - make sure the first cultural probe is complete - schedule my day into their program - contract about privacy and participation - JUST FUCKING START
21 October
This is my introduction to the participants (homeless people) from het Leger des Heils.
File:Introductie deelnemers.pdf
24 October
At William Boothhuis (daycare) I met 3 other guys. With two of them I had a good conversation. I found out Fred can make jewellery out of horseshoe nails and used to do something with recovering boats/ships. Then another guy, Ghalid, who said he was good at eating, after a few more jokes he told me he was a good drawer. The third guy didn't say much. We just came in contact because there was a man carried outside because he had been using too much drugs or alcohol. We talked a bit about that situation, gave him my flyer but further he didn't say much. He called himself an "everybody friend".
8 November
Nightcare: Jan is an interesting man... He tells a lot, also tells personal stuff but quickly cuts it off by saying 'but lets not talk about that'. Switching from one subject to another in 5 minutes time. I asked him to participate in my probe but he didn't want to. Something I already expected. He is very settled on his privacy. No one knows he is staying at the night care and he is afraid this will come out even though I could make him unrecognisable. I handed over the probe to 3 people, 2 women and one man. Gerda had ideas straight away and looked really enthusiastic! The other women was super surprised by the disposable camera, she didn't know they existed. She told me she used to do photography a lot. The man is a quit one, but as soon as you approach him a huge smile appears on his face! Jan told me he sees him walking down the streets he is smiling and enjoying everything he sees, so he thought he would be a great candidate. The man was super surprised and honoured. Tomorrow I'm going to find Fred, he was already asleep when I entered.
Jan has a super strong opinion about drugs and alcohol. A guy interrupted the two of us and you should have seen the look on Jan's face! The guy had been drinking and he was just curious and I think also kind of trying to hit on me. I just had a short chat and had a laugh. I forgot to ask him if he wanted to participate in using the probe as well, if I see him tomorrow I will come back to it. But Jan wasn't happy with this guys because he had been drinking. He never used drugs or alcohol and is strictly against it. I don't share his opinion and explained him he doesn't have to protect me that much because I am more used to it and my limits in contact with people are higher than his. Everyone has a different personal space, Jan's isn't just that big. Especially not when it comes to touching and personal information.
14 November
The visitors of the day care can now register for workshops that are held in there. I met two new men who where interested in my workshop. I convinced them to just come to the first workshop and I would explain by then more clearly what I want to do. Hopefully they come and stay.
9 November
I had a real big conversation with Fred about his life.
15 November
Ghalid, one of the people who I gave the camera was given the choice to either enter the night care without the bottle of alcohol he brought with him or to keep it with him but with the consequences of not being allowed to sleep there for three nights. He choose to sleep outside. Hopefully I see him Friday when I am planning on visiting the day care so I can ask about what happened, maybe even ask whether he slept outside and if he could show me where. Denzel gave back the probe after Surinaika explained what the intention was of it. Gerda told me she had a tough week after the release of her case. It was harder than she first thought and fell back into her drinking problem for 2 days... Now she was back on track and was getting back at the photos. I am kinda worried about her hiding she might still has a hard time with all this. I can't imagine something heavy like this is over in a few days time. Fred is super enthusiastic about the project. Making plans and all. Although he admitted it was harder than he thought to find interesting spots.
Planning
I am working on a planning for over a week now but I am having lots of trouble with making it but I experience it is important to do if I want to make it right. At least to know what I am going to do with the workshops so I can tell the participants. They don't have a clue what I am going to do with them now. I also have to make something to introduce myself and using this way of presentation to let them introduce themselves as well. Or at least to give them a first thing to do which is interesting enough to keep them coming every week.
Panicing Week
I know I am doing stuff and I know working with these people just takes more time than usual but I am getting nervous about still not really having what I want. I hope it will get easier when I am doing the workshops but I am also thinking about a way to get to know things by doing it another way. I am going to ask Fred if he wants to show me the places he used to go when he was homeless for about 6 months in the south of the Netherlands. I also am thinking how I can get to know their knowledge. Jan is a man who knows everything, he only doesn't want to participate in these projects because of his privacy.. I am thinking about a way to show his knowledge. He almost is a walking encyclopedia with random facts. I am also looking for a way to safe all the information I get during my visits and finding a system to select the knowledges...
don't know don't know don't know!!!
New Man
My 'colleagues' told me about this new man who used to be press photographer. He might be an interesting participant. The only thing is he is traumatised by things he has been through. I don't know what kind of man I am going to run into. Didn't see him the past 2 days so hopefully I will see him Friday.
22 November
File:Workshop1 introductie.pdf File:Workshop2 sieraden.pdf
25 November
First Workshop
Workshop 1 Introductie
Ik heb mezelf nog een keer voorgesteld en uitgelegd wat ik doe bij het Leger des Heils. Ik heb uitleg gegeven over mijn project, hoe ik het beeld materiaal van hen ga gebruiken om een collectie te ontwerpen. Hierna heb ik ze het contract gegeven. Ghalid en Stephen gingen er nog even over nadenken. Ik vraag ze volgende week om het contract in te leveren mochten ze hier mee akkoord gaan. Fred was wel geïnteresseerd en heeft er heel de workshop bij gezeten maar hij wilde niet mee doen. Ik zag dat hij heel veel dingen aan het bedenken was maar kon hem niet overhalen om mee te doen. Ghalid was in het begin even druk maar zodra hij ging tekenen werd hij rustig. Een half uur voor de workshop was afgelopen had hij geen zin meer en zei dat z'n concentratie op was. Hij wilde wel een andere keer eraan verder werken want hij was bang als hij er nu verder aan zou gaan dat hij het zou verpesten. Alharbie toonde interesse voor de workshop en ik heb hem uitgenodigd om er gewoon bij te komen zitten als hij toch mee wilde doen. In het begin was hij heel enthousiast en goed bezig maar halverwege veranderde zijn stemming en nam hij een houding aan die veel aandacht op eiste. In zijn stem en verhaal werd hij een beetje agressief waar Ghalid hem in ging uitdagen (wat begrijpelijk was omdat het ook op hem gericht was). Ik heb het gesprek af moeten kappen en uiteindelijk is Alharbie weg gegaan maar liet een tekening achter waarin hij mij met een pistool gericht op Ghalid had getekend, beetje kinderachtig gedrag denk ik bij mezelf. Buiten dit vond ik de workshop erg geslaagd. Dieneke en Peter waren erg gefocust. In het begin merkte ik dat ze moeite hadden met de opdracht maar ik merkte dat ze er liever zelf over na wilden denken en uiteindelijk waren ze lekker bezig. Ook Stephen verraste me met zijn tekening. Hij was erg trots. Gerda kwam later binnen wandelen en wilde ook niet tekenen maar ze wilde nog de notities schrijven bij de foto's die ze had gemaakt met de camera die ik uitgedeeld had 2 weken terug.
Example from my friend Manouk: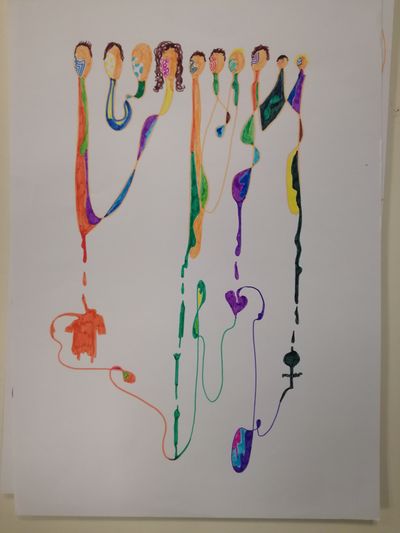 Example from myself: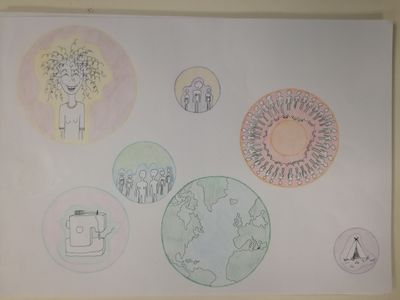 28 November
At 8:30pm we collected at Leger des Heils nearby Zuidplein. Tonight I drove along with the soup-bus. This bus stops at 2 locations and hands out soup, coffee, tea and sandwiches. At the first stop weren't that many people. I spoke to a man who chose to live on the streets 9 years ago. He rather slept on the streets than live in a house where he had to pay taxes and where the police could find him. He had been in jail when he was younger for rubbery and stuff (he said 'just some stupid harmless actions'). I think he recognised me from the day- or night care, he knew I was from the art academy but I could not place him straight away although he looked familiar. There was a small fight between some drunk polish people. Nothing really happened.
When we got out of the bus at the second stop the cold got me straight away. This was in front of the library at Blaak. Here where many more people. There was a man dressed as 'zwarte piet', he was handicapped. Telling me he was so cold and had to work during the night, I asked him what he did but out of his short story I made up he would just be wandering around the city, staying at his McDonalds as the regular customer. He was super cold, wearing noting more than an old costume. He told me he split up with his girlfriend for the fourth time yesterday and now was in a desperate situation. He didn't want to take a blanket because he thought someone else might needed it more. When he was gone Joke told me he was just making up stories because he has an assisted living. It was kinda funny how he fooled everyone. Then another man was really kind of my company. One of the people who just like to have a little chat. That's one of the things I like most; having conversations with people and get a thankful feeling with the last words "When are you here again? See you then!" At the very end I even got a present from a man. He actually brought it for someone else but she didn't show up. Because I am a student he insisted on me having it.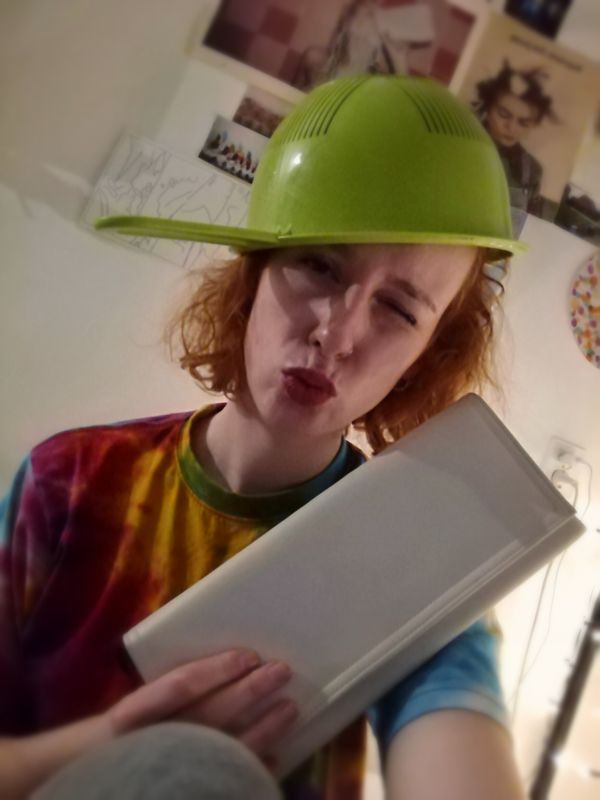 I didn't dare to show or say it there, but MAN I WAS COLD! I felt so spoiled if I would complain about the cold because half of these people just have to sleep on the streets tonight.. Some because they rather sleep on the streets than in a crowded night care or just out of other principles, others because they just have no other option. I can't imagine...
30 November
Idea how to get stories: put down a box with a weekly topic which the homeless people can send in anonymous notes.
7 December