Quickstartguide:CutPrintedStickers
Jump to navigation
Jump to search
How to cut printed stickers with our Roland vinylcutter
File:Plottercropmarksimageonly.pdf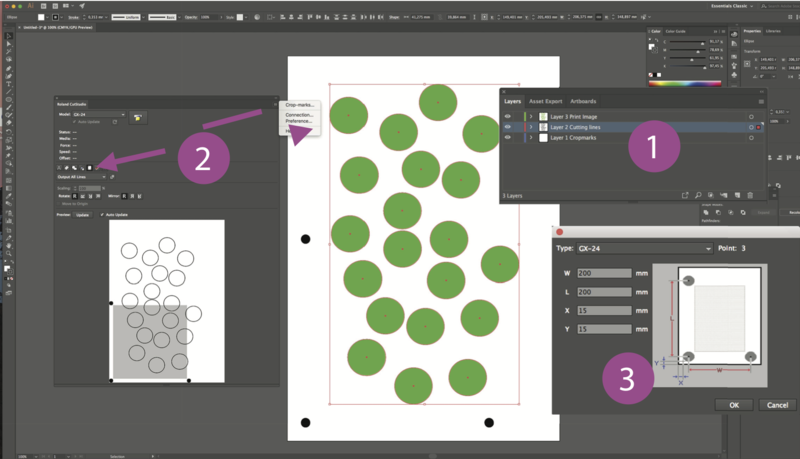 1 First create an Illustrator file with three layers. The top layer will contain the images for print, the second layer needs to contain the vector-lines for the vinyl cutter. The bottom layer is for the cropmarks.
2 To add the cropmarks, select the bottom layer and click the cropmark-button in the Roland Cutstudio-plugin. Three black dots will appear in your file. To adjust the position of the cropmarks, click the rollmenu in the right top corner of the plugin.
3 In this menu you can change the position as illustrated above. Make sure to remember the settings you use for later! Save your Illustrator-file both as .ai and .pdf. Now you print the pdf-file. Print it on 100%, do not scale
4 Feed your print to the vinyl cutter. Check the force as with vinyl. Open your .ai file and double check the cropmark positions. Change if necessary. Now output your job. First the vinyl cutter will search for the cropmark in the left bottom corner, then the other two.
 Sometimes the  first cropmark is not found. In that case change the position of the knive and give it an other try.


Note the margins the vinyl-cutter needs! Your sticker images should be located to the right, and above the cropmarks. besides that, leave a margin of 5cm on the top, and atleast 1cm on the right side of your paper.
For a more detailed manual of the vinyl cutter, check the Publication Station WIKI's Quickstartguides. [[1]]