Ciska Swaak/3e jaar
Jump to navigation
Jump to search
UNRAVEL THE CODE
2014-2015
ABOUT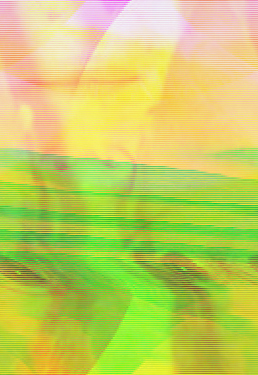 Ciska \ 25 \ Graphic Design student \ ♥ for graphic design, graphic books, typography, art, geometric shapes, grids, bright colors, coding, photography.

WILLEM DE KOONING ACADEMIE
Graphic Design __ 2012 - current

GRAFISCH LYCEUM ROTTERDAM
Addendum Multimedia Design __ 2011 - 2012
Graphic Design __ 2008 - 2011
Digital Media Production (All-round DTP) __ 2005 - 2008
EXAMPLES CONTEMPORARY TECHNOLOGIES
GRAPHIC DESIGN
Sound Poster 1.0 , 2.0, 3.0
by Trapped in Suburbia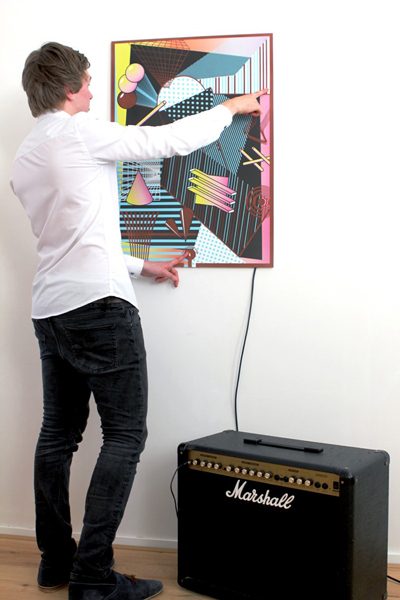 The Sound Poster 1.0 is our first experiment in which we try to mix digital with analog or the other way together. The biggest reason is that the 'experience' is considerably larger. Digital installations / projects / apps are often linked to a screen / tablet and that means that for example the environment or material (tactility) play a minimal role while these aspects a large role have on our experience. The Sound Poster is the first experiment with what you can do with a poster (print) in combination with technology (digital). In this case, we uses the open source technology and software Arduino and is connected with conductive copper ink. When the resistance changes, the sound changes with: soft touch gives a different sound than hard on the poster prints. The sound is now based on a synthesizer sound, we are now working on a sequel in which the sound is more based on real classical instruments.
We got inspired by Kandinsky his music theory; music was very important for him and most of his work is based on music.
The Sound Poster is developed together with David van Gemeren. movie Sound Poster 1.0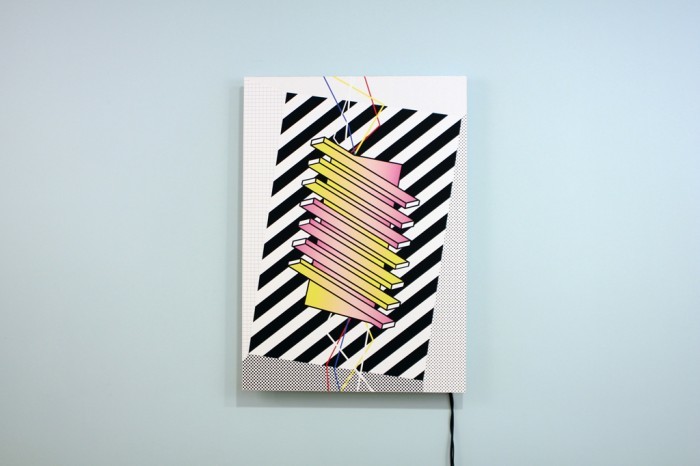 The Sound Poster 2.0, created by design duo Trapped in Suburbia and David van Gemeren. By touching the poster you can create music. This 2.0 version of the poster is a multiplayer installation and lets user create their own song just by touching the poster and turning on the different music samples. The poster had its premiere during the Kikk international digital arts festival in Belgium, where it attracted many people and made all of them feel the groove.
As a reaction to the first Sound Poster 1.0, we wanted to amp up the play factor and interaction and therefore decided to go for a multiplayer version. Next to this the first Sound Poster made sounds, this second version actually lets users make music. Sound Poster 2.0 was created by the use of highly conductive ink, multiple capacitive touch sensors and one Raspberry Pi mini computer.
The Sound Poster is a collaborative project between the designers of Trapped in Suburbia(Karin Langeveld & Cuby Gerards) and David van Gemeren in a series of experiments where these designers find the limitations and cross sections of digital and analogue interaction.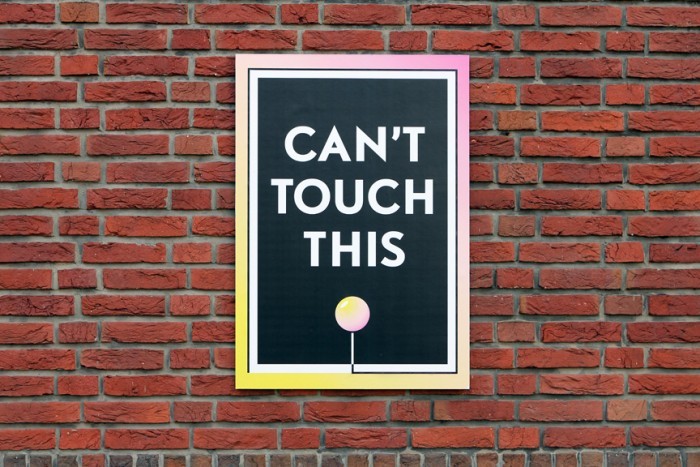 The Sound Poster 3.0 was created from pure adolescent behavior, we just wanted to blow up something and end the series with a bang. In combination with the capacitive touch sensor from Sound Poster 2.0, an electric ignition and ink made out of gunpowder we made this interactive poster go boom.
In collaboration with David van Gemeren.
Postcard Player
by Uniform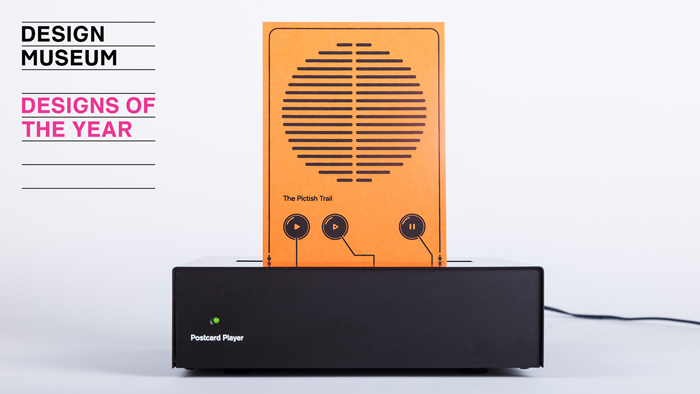 ABOUT THE POSTCARD PLAYER
Combining the analogue spirit of vinyl records and music cassettes with the tactile qualities of print production and the breadth of digital data and services, The Postcard Player is a prototype designed to demonstrate how Paper Electronics could enable people to listen to digital music, or interact with other digital data and services in a more engaging way.
As a work-in-progress the Player has been exhibited in many different forms and iterations, each time providing more information about how people engage with it and how it could be improved. It was not conceived as a solution to a problem, it's a prototype to open a discussion about how physical interactions can enrich our engagement with digital media
The Player works with postcards printed using conductive inks. When they are put in the player, people can press the buttons printed on them to hear a piece of music. The cards have no electronic components in them, when they are placed in the player they act like switches that tell it what tracks to play.
The Listening Post
by Uniform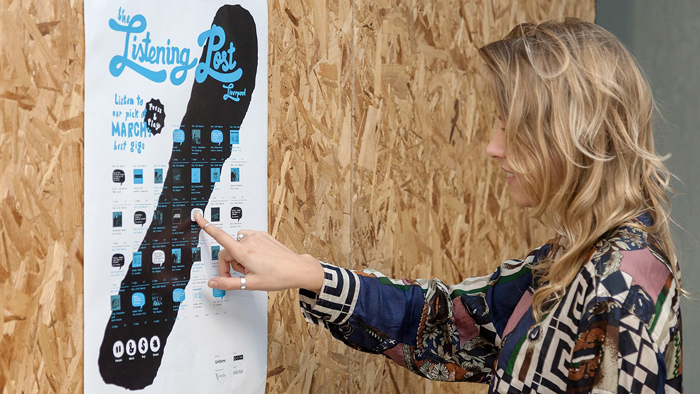 ABOUT THE LISTENING POST
Printed Electronics is an emerging technology with huge potential to change the way people interact with each other and the everyday stuff that's around them. The field is growing and the UK is home to some of the world's leading researchers. In 2012 Uniform were invited to present with a panel of musicians, technologists and academics at SXSW in Austin, Texas to discuss what impact Printed Electronics could have on the Music Industry.
Uniform worked with Cambridge Printed Electronics specialists, Novalia and the acclaimed hyper-local music label, Fence Records to explore what could be achieved by combining, conductive inks, paper, standard electronic components and music.
The result was an interactive music listings poster. Like a traditional listings poster, The Listening Post highlights recommendations for gigs in a specific area over a specific period of time. By touching the poster people can hear a sample of each artist's music. Connecting the poster to the cloud, could enable dynamic content that could be updated: users could subscribe to a service that could provide suggestions based around their tastes, allow them to share recommendations and enable purchasing of both tracks and tickets.
The reverse of the poster is screen-printed with conductive silver ink connected directly to Novalia's proprietary hardware, which is small and light enough to be attached to the poster directly. In the future it's envisaged that similar pieces of Paper Electronics could be mass produced using traditional large scale lithographic print production and lightweight, flexible, electronic components redefining the medium through which people engage with digital media and creating new Internet experiences.
FRAMED 2.0
by FRAMED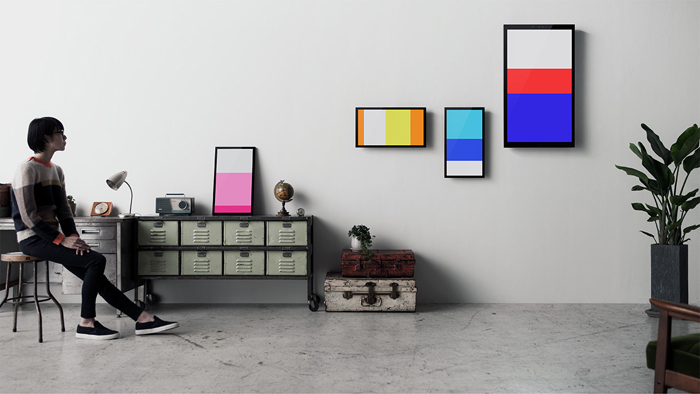 ABOUT FRAMED 2.0
FRAMED allows you to showcase an infinite selection of digital artworks in everyday environments.
Bringing Digital Art to Life FRAMED is an Internet connected display that allows you to showcase artwork in a way that has never been done before. Designed to be the world's first canvas for the art of our generation, allowing you to experience and enjoy beautiful art within a normal, everyday setting. Perfect for creators and fans of visual culture alike, hang it on your wall, choose an artwork, and transform your space into a living, virtual gallery of creative expressions. The evolution of technology and accessibility of the internet has brought out an expansive range and depth in digital art, and now, FRAMED can bring digital art into your everyday.
BODY
PULSE
by Markus Kison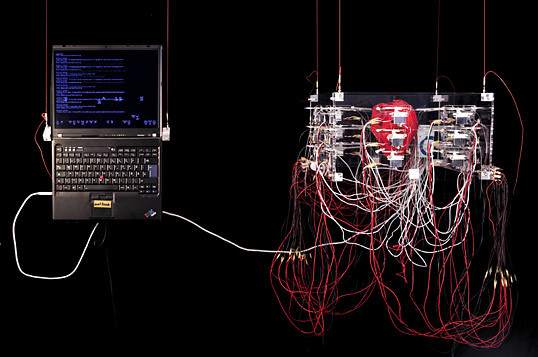 ABOUT PULSE
pulse (2012) is a live-visualization of recent emotional expressions, written on private weblogs hosted at wordpress.com. Weblog entries are compared to a list of emotions, which refers to Robert Plutchik's seminal book Psychoevolutionary Theory of Emotion published in 1980. Plutchik describes eight basic human emotions in his book: joy, trust, fear, surprise, sadness, disgust, anger, and anticipation. He developed a diagram in which these eight emotions, together with their weakened and amplified counterparts, form a three dimensional cone, consisting of 24 areas. The cone is the basic form of pulse, which can enlarge in the 24 directions of the different emotions. Each time an emotion tag, or a synonym of it, is found in a recent blog entry, the shape-shifting object transforms itself in such a way that the new volume represents a piece of the overall current emotional condition of surfers on the Internet.
Credits This is the stable version of pulse created in may 2008 during my diploma thesis in the Digital Media Class at the University of the Arts Berlin.
DUNE
by Daan Roosegaarde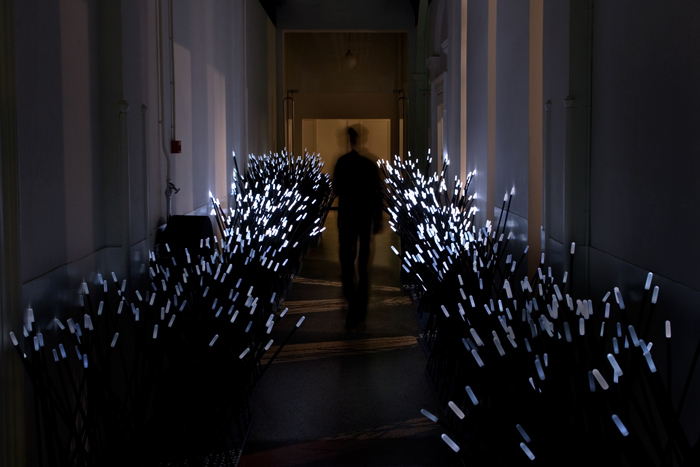 ABOUT DUNE
DUNE is the public interactive landscape that interacts with human behavior. This hybrid of nature and technology is composed of large amounts of fibers that brighten according to the sounds and motion of passing visitors.
Nervous Structure 10 [2013]
by Cuppetelli and Mendoza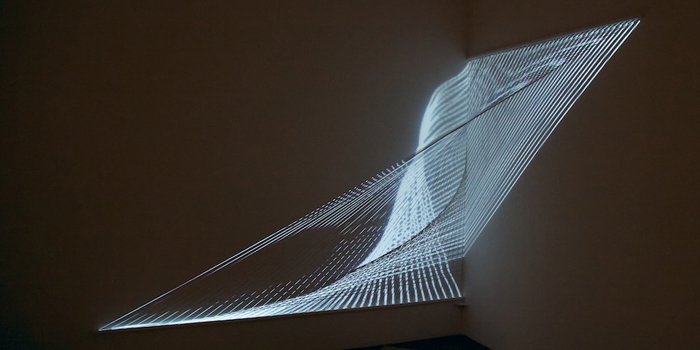 ABOUT Nervous Structure 10
Site-specific interactive installation. 8' x 8' x 6'. MDF, elastic cord, video projector, video camera, computer, custom software.
Nervous Structure 10 was conceived and installed for FILE EXHIBITION-CASINO, which was held in 2013 from July 13th to August 25th. The exhibition was held at SESC Quitandinha, in Petropolis, Brazil.
OMOTE
by NOBUMICHI ASAI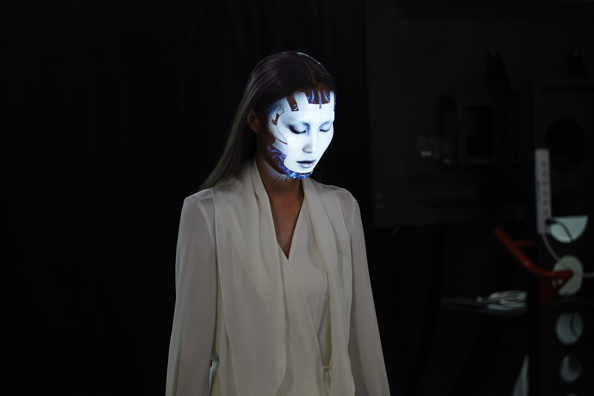 ABOUT OMOTE
[Omote] is a Japanese word for face, or a mask. Face is considered as [mirror] that reflects human soul, a separation between Omote (exterior) and Ura (interior), and in Nogaku, Japan's classical musical plays, performers use Omtoe masks to express multitude of dramatic emotions. As we spent more time on the project, we became more aware of its similarities with Nogaku's Omote masks, and explored further possibilities through Integration of latest technology and classical Japanese art.
REAL-TIME FACE TRACKING & PROJECTION MAPPING 2014/8/28 LIVE INSTALLATION@SPICE
SUGABABE
by Diemut Strebe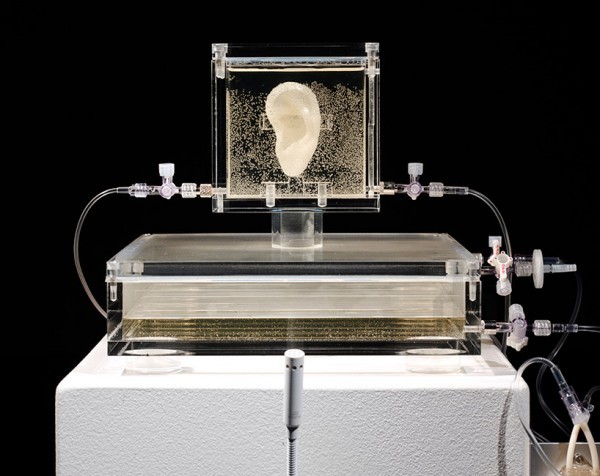 ABOUT SUGABABE
Sugababe is a living replica of Vincent van Gogh's ear, grown from tissue engineered cartilage. It is composed of living van Gogh cells from a male descendant, containing natural genetic information about Vincent as well as genetically engineered components. The project focuses on a particular form of human replication. The Theseus paradox from Plutarch forms the literary basis for the scientific approaches using the principle of replacement on the molecular, the microscopic and the anatomic level.
The ear is presented in a series of a limited edition, each piece visually of the same appearance, but made of different scientific components, that refer to the principle of replacement carried out to various degrees of scientific advances and evidence replicating in the living art piece.
One can speak to the ear through a microphone system. The input sound is connected to a computer processor, using a software program to generate simulated nerve impulses from the sound signal in real time. They mimic sounds recorded from an electrode inserted into the auditory nerve, when firing.
During the opening on 30 May 2014 at ZKM Karlsruhe, Germany, Noam Chomsky was the first person to speak to the ear.
Real World Third Person Perspective VR / AR Experiment
by two Polish Designers (mepi.pl)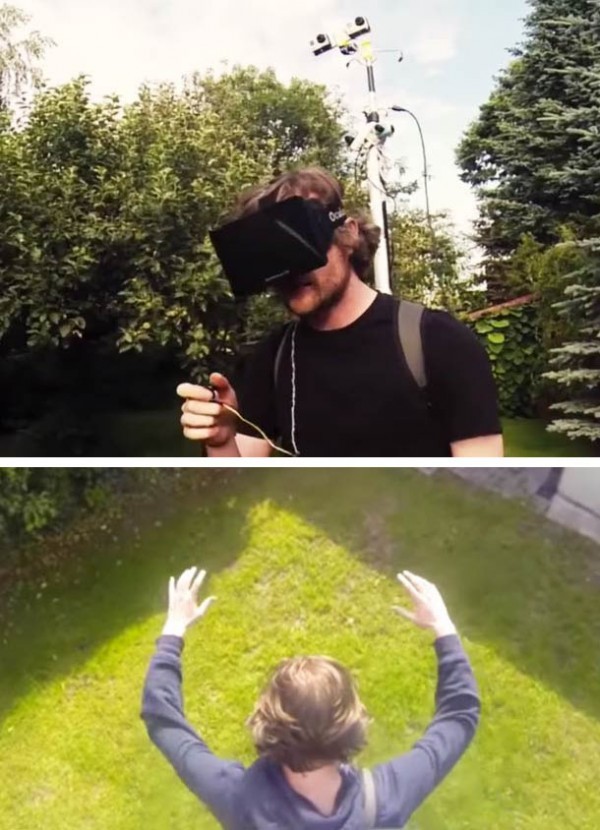 ABOUT Real World Third Person Perspective VR / AR Experiment'
The idea is to develop Virtual Reality in a Third Person Perspective view. This wearable can enchance human visual performance for use in real world applications where extended vision benefits the user.
The prototype and video were created in only 2 days as an experiment.
RESULTS
RFID Chipcard
Movie about Thelma.
Low Resolution Knitting

Silkscreenprinting with conductive ink
In collaboration with Roza Schous.
Servo Workshop result
The glasses wiper.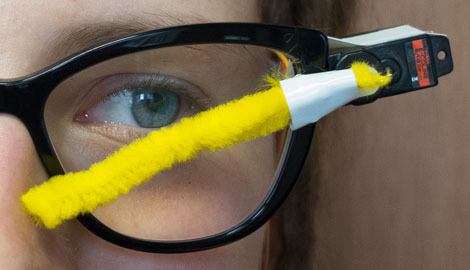 In collaboration with Leslie Page.
Crafting data workshop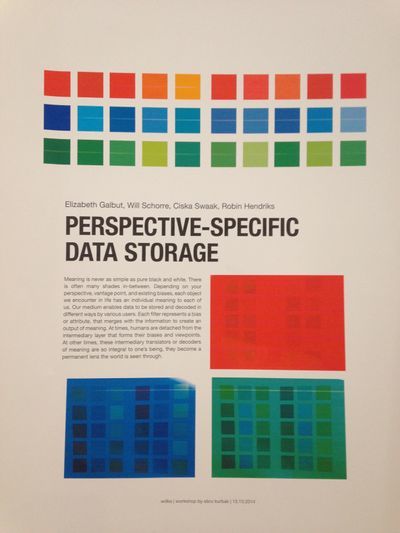 In collaboration Elizabeth, Will and Robin
TEAM
I work together with Leslie Page for the final assignment.
Project page Leslie & Ciska
RESEARCH QUESTIONS
- What is information identity?
- What kind of information do people send or receive?
- What kind of reactions can we provoke by people using technology?
- How can technology influence the reactions of people?
- What is the natural reaction of people on animals/insects? And vice versa?
DOCUMENTATION TASK