User:Urf
Jump to navigation
Jump to search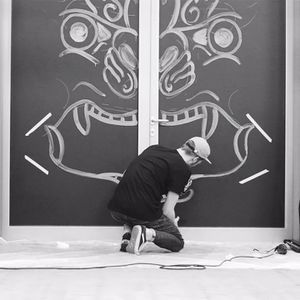 Ervin Poot
0929997
0929997@hr.nl
Illustration
Practice Digital Craft 2018
For my fantastic forgeries I picked the work of Jheronimus Bosch. Actually there are two works I picked, but they kind of belong together I figured. The first work is called "Cripples" and the second one "Various Fantastic Figures". The pissing and farting monsters on the right page are clearly fantasies and intent to induce laughter. But cripples on the left page could be realistic. In the sixteenth century, there were many deformed people, as a result of violence and leprosy. And yet this print is meant to be humorous.
There were two things those works had that appealed to me. At first the technique he used. Both prints are engraved and this is something I really wanted to learn. The second thing I liked even more, is the way the characters are drawn. I feel related to this because I also like to draw in weird and alienating themes as they tend to trigger my fantasie.
My aim for the final work is to show how I sometimes.....
Copy
For the copy I wanted to try and learn the technique used by Jheronimus Bosch. I started experimenting with the etching technique. I tried different methods of the etching process.
Research
I started my research by looking for inspiration and images that catch my interests but also could relate to the cripples.

• Fantasie • Alienating • Own perception • In nature, nothing is perfect and everything is perfect. • Maybe your weird is my normal. Who's to say? • You say freak, I say unique. • Nothing is what it looks like. • Everyone is the same • I hate people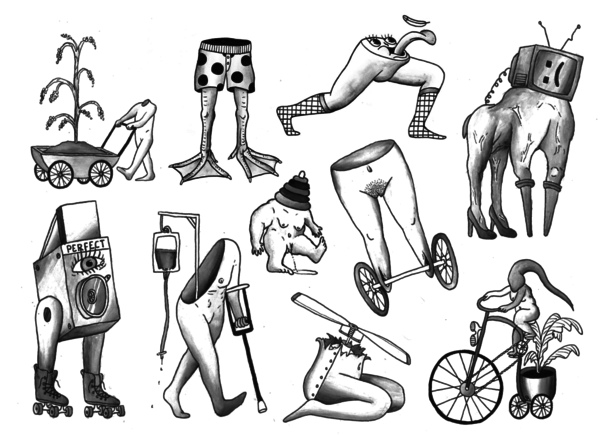 1. What is the theme i am investigating? Weird and alienating characters in comparison with recognisable aspects from normal humans beings.
2. What is my research question? How do I visualise or show others how I see things different?
3. How am I structuring my research?
4. What tools and methods will I use to conduct my research? The internet and just trial and error. And also selfresearch. Who am I as an illustrator
5. What is the foreseen result? An illustrated print in the colours red and blue. The blue and red layers of illustrations overlap each other. By using coloured cellophane the viewer will be able to filter out the 'normal' from the 'weird (or how I see things)'
6. What is the difference between my foreseen result and my actual result? The final result is in the form of a performance. I also leave out the overlapping layers and the cellophane. In the performance I will start out with a projection saying that I see things how others might not see them. I start talking about the weird things in normal life that inspire me. While talking I slowly start scratching on the transparant paper to reveal characters to the story. One by one I go on.
7. Is it relevant? During this practice I learned a lot about who I am as an illustrator. What are my qualities and where do I get my inspiration from. I also learned, due to the short amount of time we had, to work with very little materials at my disposal. This also helped me to look further for new outcomes on my concept.


Transformation
At first my original idea seemed nice. But while working on the idea I noticed it wasn't working the way I expected. This came as a shock as I did not have many time left to think of a new idea. I didn't have enough resources to come up something new I thought. But working with the resources I got, I learned that something even better can come out of it. In this case I only had some transparant sheets left and the drawings I made. After some long hours of trying to come up with something new, I figured I could use a projector to my advantage, as I had the transparant sheets left over. I tried different things and at last I came up with the result you see in the video below.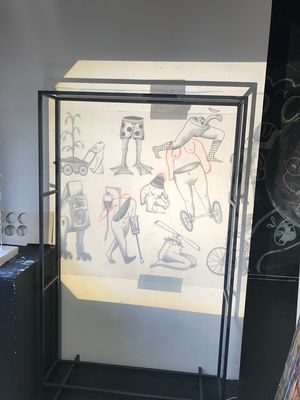 End result here: https://vimeo.com/273973905
---
Elective Mimmicking Machines 2017
Welcome to my page where I document the progress we're making at the elective called Mimicking Machines. At this elective we're looking at different kind of printers and plotters. In the first lessons we made a plotter using 3d printed parts, electric motors, belts and a control panel called Arduino. While making the plotter I learned a lot about the mechanics and how the plotter works.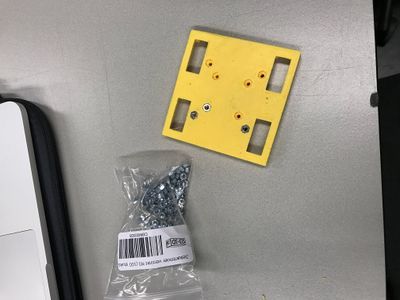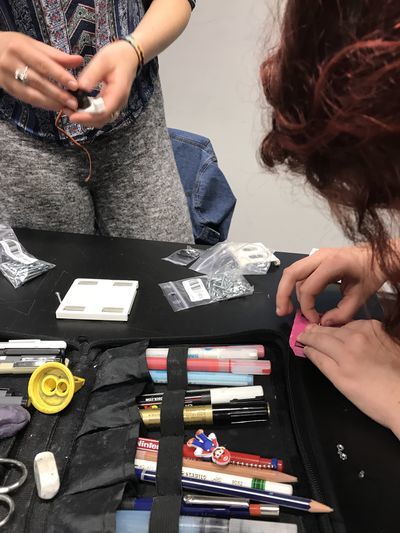 First I made a vector illustration in illustrator and imported the file into Inkscape to make a G-code of it. This G-code can be used in the software called Universal G-code sender. In this software you can control the plotter by clicking buttons, or sending the code to the Arduino. The Arduino knows where to draw because of the code.
I've been experimenting with different kind of materials such as a pentel brush and a posca marker. I tried to get different result with the same code. With the brush I tried to get different thicknesses in the line it made. Still this was very hard because I had to edit the code the program made for me. A lot of times the plotter just stopped because of an error. But after a reset it did its job well.
Check out the video I made from the plotter doing its job. https://vimeo.com/224086302
I'm planning to use this machine more often in the future. You can do a lot of cool stuff with it!