Workshops/CoreMemoryMarathon
Jump to navigation
Jump to search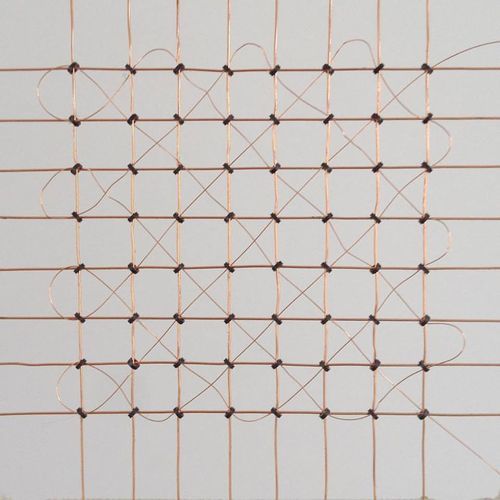 Unravel the Code IV - Core Memory Marathon
What kind of memories can can be stored in 64 bits? Who knows! For this group of Digital Craftsmen, the memory is all in the making.
For the fourth consecutive year of Unravel the Code, students of Baltimore's Maryland Institute College of Art and students of the Digital Craft programme at the Willem de Kooning Academy will join forces in Rotterdam for a week of lectures, workshops, and exchange. The workshop challenge for this years group of collaborators is perhaps the most ambitious: to literally craft computational memory. The type of memory to be made is a curious and obsolete mid-20th century technology where computation and weaving handwork intersects. Called Magnetic Core Memory, the principle behind the technology relies on an array of woven bead-like rings (cores) that can be magnetised in either a clockwise or counter clockwise direction. This binary differentiation enables each core to be readable/writable as either a 1 or 0. Each magnetic core/bead makes a bit, 8 cores make a byte, and our 64 core system is will be able 1/billionth of what you can store on a 8GB usb stick. It is for a very selective memory.
The goal of the workshop is to build from scratch two complete and working memory systems. The participants with be split into three groups, each with a 'core' task. The Drivers will build the driving hardware to send and sense electrical its pulses; Etchers & Weavers will create copper print plates that will serve for the circuitry/carrier of the magnetic memory and sew together the magnetic rings that will carry and store data; and the Dreamers will speculate the revival of core memory by exploring its artistic application. At the end of the day the teams will regroup into the respective institutions. The MICA students will write a memory in one of the (hopefully) working systems for the WDKA, and the WDKA students will write a memory for MICA. The moment of truth will come when the memory attempted to be retrieved.
Aside from the practical experience of building computational memory, the peculiarities of the medium will hopefully bring many conceptual discussions around the workshop tables. From a distructive reading process can draw some parallels to contemporary concepts of human "working memory", to the mere marvel that hand woven beads-on-threads ran some of the worlds first super computers. Considering the tiny amount of storable data and the fact that there is no guarantee that the reading and writing of the the core memory will be without failure, the practical functions will have to be displaced by more poetic matter. Nonetheless it will be a memorable experience.
Pre-Marathon Meeting
In a 5 min Skype session, introduce the Unravel the Code / Digital Craft programme (what are the themes/style/skills of the course) and share a memorable photograph of your past that fits under the title " the moment I knew what I wanted to do". The purpose of this pre-meeting is to have the first exchange to be on a peer to peer basis and break the ice before the marathon begins.

Student Pairings

Anna Brancaccio abrancaccio@mica.edu Arthur Boer 0882827@hr.nl
Caroline Kim ckim02@mica.edu Boris Smeenk 0884964@hr.nl
Catie Buhler cbuhler@mica.edu Brice Ammar Khodja 0918590@hr.nl
Emma Whitlock ewhitlock@mica.edu Carly Muller 0880287@hr.nl
Esther Kim ekim05@mica.edu Emma Rijk & Eun Yang Lee 0880287@hr.nl 0918584@hr.nl
Jake O'Hagan johagan@mica.edu Floor Steinz 0866254@hr.nl
Katie Rose krose@mica.edu Judith vd Heiden 0864247@hr.nl
Kevin Cook kcook01@mica.edu Julia Rahliff 0918589@hr.nl
Linka Lin llin01@mica.edu Kars vd Heuvel 0884935@hr.nl
Mai Toyoshima mtoyoshima@mica.edu Kelly Fober 0838573@hr.nl
Ryan Griffin rgriffin01@mica.edu Lars Noback 0884935@hr.nl
Sanskruta Chakravarthy schakravarthy@mica.edu Laura Egger-Karlegger & Laura Lang 0918622@hr.nl 0918624@hr.nl
Stella Lee slee14@mica.edu Leontien van Hattem 0884174@hr.nl
Akane Bessho abessho@mica.edu Lisa Vermeer 0875522@hr.nl
Ece Hoboo Maevanwy Mcavoy 0918617@hr.nl
Hieu Tran htran@mica.edu Marjolein Stassen 0879333@hr.nl
Hitesh Singhal hsinghal@mica.edu Stijn v Aardenne 0883885@hr.nl
Jake Lazovick jlazovick@mica.edu Max Kowalski 0880569@hr.nl
Maya Ragazzo mragazzo@mica.edu Meike Brand 0883201@hr.nl
Ran Zheng rzheng@mica.edu Nora Mabrouki 0877573@hr.nl
Sarah Whelton swhelton@mica.edu Pascalle deJager 0884310@hr.nl
Selina Doroshenko sdoroshenko@mica.edu Pip Passchier 0880524@hr.nl
Sydney Spann sspann@mica.edu Rens van Pinxteren 0877294@hr.nl
Yinan Wang ywang01@mica.edu Stan Haanappel 0877946@hr.nl
Yu Sheng ysheng@mica.edu Zina Burgers 0877294@hr.nl
Memory Marathon Presentations
On Wednesday afternoon all students will have 3 minutes to share their interests and approach to their practice. Considering collaboration can continue well beyond the project week it could be interesting to see on what basis can students connect. Please prepare a short 5 slide presentation on the following format and have it ready as a pdf.
Slide 1: A memorable photograph of your past.
(That fits under the title " the moment I knew what I wanted to do")
Slide 2: What do you make?
(Tell us in one image and one slide about creative background)
Slide 3: What is your topic of interest?
(Explain a past/current Q9 project topic or what you wish to research in Q10)
Slide 4: What is your medium?
(Explain what materials and tools you wish to use)
Side 5: What is your question?
Schedule (subject to change)
Wednesday October 14 – Sharing Interests / Sharing Approaches
| Wednesday 14/10 | Interaction Station (2nd Floor Wijnhaven) |
| --- | --- |
| 12:00-12:30 | Welcoming students, brief discussion on course approaches, gathering presentations |
| 12:30 – 13:30 | MICA presentations |
| 13:30 – 13:45 | Coffee Break |
| 13:45 – 14:45 | WDKA presentations |
| 15:00 – 17:00 | Mini Rotterdam Excursion |
| 17:00 – 17:45 | Core Memory Marathon Briefing |
| 18:15 – 19:00 | Documenting the wiki Roel Roscam Abbing Postponed till 11:30 Thursday |
| 18:00 | Dinner in the Willem |
| After Hours.... | Drinks? |

Thursday October 15 – Core Memory Marathon
Thursday 15/10
Interaction Station (2nd Floor Wijnhaven)
9:30 – 10:00
Recapping workshop challenge / division into groups

- The Drivers – Building driving hardware
- The Etchers & Weavers – Etching bead and sensing sheilds/Weaving magnetic cores
-The Dreamers – Exploring the artistic applications of core memory


10:00 – 18:00
Soldering, Etching, Weaving, Sketching Marathon
19:00-19:30
Regrouping, bringing parts together and making/writing the memory
19:30-20:00
Moment of truth – reading the memory
Workshop Reading Material / Resources
Media:Byte-1976-07.pdf Byte Magazine article on Ferrite Core Memory and adding currents
Media:Corememoryshield_report.pdf Report on the Core Memory Arduino shield we will try to build
The core memory shield website
The WDKA GitHub with all files and arduino code
Illustrator layout
Groups documentation